The recent arrival of over a thousand marines in Darwin provides a risk for Australia, yet absolutely no reward, writes Nick Deane.
IF ONE COUNTRY INVITES the armed forces of another onto its territory, one would expect the government of the host country to have seen strategic benefits in the arrangement.
Furthermore, one would also expect, in a democracy, that this government would be happy to explain these benefits to its people. That should be simple enough.
In the case of Australia playing host to a garrison of more than 1,000 United States marines in Darwin for the next six months, the public has been offered no explanation about the strategic benefits. All we have been told (via a letter to IPAN-NSW from the Minister for Defence on 7 December 2012) is that the marines' presence is an extension of our existing, long-standing alliance with the U.S. — as though the passage of time alone is sufficient justification for us to willingly accept foreign forces on our territory.
What is missing is any discussion of the strategic advantages to Australia that come from the presence of the U.S. garrison.
It is probably taken for granted that the advantage lies in the supposed 'protection' that it brings us. But are the marines really here for our protection?
And who actually benefits, in strategic terms, from this arrangement?
Certainly, the strategic benefits to the U.S. are large.
The marines occupy a 'forward position', thousands of kilometres beyond US territory. And, in the words of a report from CSBA (the Centre for Strategic and Budgetary Assessment):
'Australia's strong ties with America provide it with the means to preserve U.S. influence and military reach across the Indo-Pacific.'
Note: that's the United States' influence and military reach.
In the broader context of the U.S. pivot to the Asia-Pacific and the 'containment' of China that it implies, having Australia 'on side' to provide locations for satellite surveillance and communications establishments, and even port and airport facilities for warships and war-planes – as well as a land base for rapidly deployable troops – is an enormous strategic bonus.
To the U.S., that is.
But where is the benefit to Australia?
What we get out of it is the certainty that we are now directly involved, if hostilities break out between America and China. That would make parts of Australia potential targets for attack.
Sure, the U.S. might offer us 'protection' in such a scenario — but the scenario would not arise without the prior existence of our too close alliance in the first place.
Hugh White, Professor of Strategic Studies ANU, in his 2012 book The China Choice, Why America Should Share Power, argues that stability in the Asia-Pacific region depends on the U.S. negotiating with China on equal terms. He explains that a new understanding between China – as a rising regional power – and the U.S. – whose power is presently projected the whole way across the Pacific – is absolutely vital.
Yet all the indications are that the U.S. is more ready to follow its customary pattern of confrontation — hence its aggressive response to China's recent establishment of a special air zone over the disputed Diaoyu/Senkaku islands.
Should Japan provoke China over this dispute and should China retaliate, the U.S. will side with Japan. And, following its long habit of fighting wars for the US, there is little doubt that Australia would become involved.
In other words, having U.S. marines in Darwin increases the likelihood of Australia joining that country in yet another war with yet another nation with which we have no substantive dispute — following the pattern set successively in Korea, Vietnam, Afghanistan and Iraq.
In the absence of any strategic justification for the presence of the US marines in Darwin, it is very arguable that there is a significant strategic cost to Australia, but no benefit whatsoever.
Nick Deane is a member of peace activist network IPAN, which is holding a national peace conference in Canberra on 22 April. More details below. Read also: U.S. dominance and Australia's secret coup by John Pilger.

This work is licensed under a Creative Commons Attribution-NonCommercial-NoDerivs 3.0 Australia License
Donate to IA
We need YOU!
IA punches above its weight.
Help us sharpen our knuckledusters.
PLEASE DONATE NOW!
IA Newsletter
Receive IA's free weekly newsletter in your inbox. Join Today
IA Newsletter Survey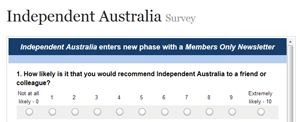 IA is interested in getting your feedback on our Newsletter. Can you help?
Support IA

Recent Comments