On 17 December 2013 Independent Australia published an article on this website, authored by Brett Quine and entitled "Melbourne gangland snitch outed" ("the article complained of"), which may have conveyed some serious comments and imputations about a Melbourne solicitor Mr George Defteros regarding his character, his practice as a lawyer and his suitability to be a member of the legal profession.

Independent Australia in no way intended for the above comments and imputations, which are untrue, to be published on this website and was most concerned when advised of the same, leading to the offending article complained of being removed on 21 January 2014.

Independent Australia hereby forever retracts the above comments and imputations and apologises unreservedly to Mr. Defteros for any harm, distress or embarrassment caused by publication of the article complained of.
Donate to IA
We need YOU!
IA punches above its weight.
Help us sharpen our knuckledusters.
PLEASE DONATE NOW!
IA Newsletter
Receive IA's free weekly newsletter in your inbox. Join Today
IA Newsletter Survey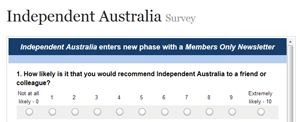 IA is interested in getting your feedback on our Newsletter. Can you help?
Support IA

Recent Comments