admin
22 November 2011, 12:34pm
Washington lobbyists crafted an $850,000 plan for the banking industry to discredit the Occupy Wall Street Movement, reports Zaid Jilani from Think Progress.
This weekend, the MSNBC show
Up! With Chris Hayes
broke a stunning story
about how Washington lobbyists are scrambling to undermine the protesters on Wall Street and across the country.
Hayes' report, which can be viewed
here
, details how the Washington, D.C.-based lobbying firm
Clark Lytle Geduldig & Cranford
(CLGC) compiled a secret plan to undermine Occupy Wall Street for the American Bankers Association (ABA).
The
plan
, which CLGC was demanding $850,000 to implement, was presented in a secret memo that was leaked to Hayes' staff. The memo warns that Occupy Wall Street, particularly if it is embraced by the Democratic Party, threatens to "have very long-lasting political, policy, and financial impacts on the companies in the center of the bullseye."
Interestingly, the memo also cautioned that Tea Party protesters may join forces with Occupy Wall Street because



"…well-known Wall Street companies stand at the nexus of where [Occupy Wall Street] protesters and the Tea Party overlap on angered populism....This combination has the potential to be explosive later in the year when media reports cover the next round of bonuses and contrast it with stories of millions of Americans making do with less this holiday season."


In order to combat Occupy Wall Street's growing movement, the firm offered to engage in research and advocacy to "undermine their credibility in a profound way". This included researching activists' financial histories and civil and criminal information, and monitoring social media. The goal of this research was to





"…create negative narratives of the [Occupy Wall Street] for high impact media placement to expose the backers of this movement".


From the memo:



Click here to view larger.

"Our Government Relations staff did receive the proposal — it was unsolicited and we chose not to act on it in any way," said ABA spokesperson Jeff Sigmund to Hayes' show. However, CLGC admits on its website that it has had ABA as a client before in the past, in addition to the Financial Services Roundtable, U.S. Chamber of Commerce, Fidelity Investments, and other financial players.


(This story was published on Truthout on Monday 21 November, 2011, and has been republished under a Creative Commons licence.)
Donate to IA
We need YOU!
IA punches above its weight.
Help us sharpen our knuckledusters.
PLEASE DONATE NOW!
IA Newsletter
Receive IA's free weekly newsletter in your inbox. Join Today
Support IA
IA Survey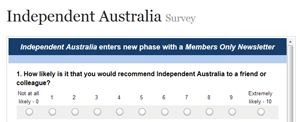 Recent Comments