A Queensland physicist's war on global warming sceptics has seen him win the 2011 Eureka Prize for Advancement of Climate Change Knowledge, reports environment editor Sandi Keane.


John Cook's Skeptical Science website continues to attract international scientific acclaim and monthly visits of over half a million. An app conversion made number two on the UK Guardian's Top Ten green apps.

A guide and a handbook have also materialised in quick succession over the past year.

And if that's not enough to send the climate deniers running to the bunkers, a new weapon has been added to Skeptical Science's arsenal — a 'Twitter-bot'. This creation is a collaboration with software developer Nigel Leck, which ingeniously acts like a reverse search engine. Every five minutes, it patrols Twitter searching for common myths on climate change, firing off a volley of peer-reviewed scientific evidence in rapid response.

Cook is a Research Fellow in climate communications at the Global Change Institute at the University of Queensland.

His war on global-warming deniers began in 2007 with his website, Skeptical Science. His idea was simple: "to make peer-reviewed science the ultimate authority".

Cook said he chose the name "Skeptical Science" because he believed the word had been misappropriated by the deniers.
"True skeptics seek the truth and the skeptics we know deny it."
This is how he saw the website work:
"The sceptic arguments would be matched with easily understood quick, fact-based rebuttals, backed up by the latest, peer-reviewed science — with a link so visitors could verify the credibility of the source."


Skeptical Science received international recognition in 2010 when Melburnian, Adam Kierce of Shine Technologies, converted the website into an App. Its "Top Ten" rating by The Guardian resulted in over 72,000 downloads.

As a result, Skeptical Science's popularity skyrocketed, with monthly hits of over half a million and an international reach of twenty languages.

A growing list of science and academic experts – Michael Mann and Professor Naomi Oreskes among them – have endorsed Cook's Skeptical Science as the "go to" web resource on climate.

Last month, David Suzuki, joined them:
"There are many credible sources of information… One place to start is at skepticalscience.com."
Cook's arsenal continues to grow. Following the Scientific Guide to Global Warming Skepticismcamethe recent Debunking Handbook, both available for download from the website. The book, Climate Change Denial: Heads in the Sand, with a foreword by Professor Naomi Oreskes and co-authored with Haydn Washington, was published last year.

Academic institutes around the world have taken up Cook's resource:
"A few different college courses are now using our site in their curriculum – for example Portland State University [Debunking Handbook] and Suffolk County Community College [website].

"Suffolk Country Community College's Professor Scott Mandia gave his students the project of reviewing the guide and many of their comments were incorporated into the final version."
Shine Technologies has followed its app with a Skeptical Science Firefox Add-on that has two major functions.

It interfaces as you surf websites and blogs, checking arguments and responding to you instantly with both short rebuttals from Skeptical Science as well as the full URL.

Its secondary role is an interactive one and offers a way to join Cook's war on global warming deniers. As you browse the web, the Add-on allows you to submit climate links and peer-reviewed papers to Skeptical Science's data base.

Cook encourages us to get involved:
"Join the crowd sourcing effort … and you'll make this data collecting geek very happy."
This work is licensed under a
Creative Commons Attribution-NonCommercial-NoDerivs 3.0 Australia License
Donate to IA
We need YOU!
IA punches above its weight.
Help us sharpen our knuckledusters.
PLEASE DONATE NOW!
IA Newsletter
Receive IA's free weekly newsletter in your inbox. Join Today
IA Newsletter Survey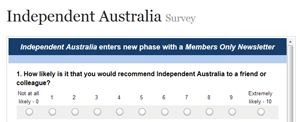 IA is interested in getting your feedback on our Newsletter. Can you help?
Support IA

Recent Comments