admin
17 January 2012, 12:01am
The Australian newspaper's war on science, truth and journalistic ethics continues. Managing editor David Donovan reports.
In last Wednesday's
The Australian
newspaper, columnist Imre Salusinszky came out with the quite extraordinary claim that the world had "beaten global warming".
He said we should congratulate ourselves; that the worst dangers no longer loom over us.
Here's some of
what he said
:



IF you are reading this on a train or a bus, I want you to lean across and shake the hand of the man or woman sitting next to you. Folks, we did it. We beat global warming.




Last year, at this time, I wrote of how global warming was already on the retreat in Australia because of the way humanity, for once, put aside its differences and acted in unison.




Last year, other parts of the globe followed suit. According to the World Meteorological Organisation: "The most significant area of below-normal temperatures in 2011 was in northern and central Australia, where temperatures were up to 1C below average in places … Other regions to experience below-normal temperatures in 2011 included the western United States and southwestern Canada, and parts of east Asia."




Last year was the sixth coldest since 1997, which shows the catastrophic scenarios of recent times are no longer looming over us.


According to Salusinszky, because last year was only the 8th hottest in the last 14 years, and some parts of the world had below average temperatures, global warming is beat.

What the ....?

Salusinszky is like a tennis player who, by getting a break of serve at 2 sets down and 0-4 in the third, tells everyone the match is as good as won and walks off. What he has written is bollocks, of course — and I suspect he knows it.

You see, Salusinszky regards himself as The Australian's in-house intellectual. He is forever writing pompous little articles subtly praising his own knowledge, learning and literacy. Consequently, it is difficult to imagine that he could write something so misleading without calculating aforethought.

Because if Salusinzky had looked at the data from the World Meteorological Organisation (WMO) as he suggests he has, he must know that, although 2011 was "the sixth coldest since 1997" (or the 8th hottest, whichever you prefer) it was also, according to the WMO, the 10th hottest year the world has

ever

recorded and the hottest

ever

during a La Nina weather event.

The following is taken from a news release isssued by the World Meteorological Organization (WMO) on Nov 29, 2011, including a chart of the data created by Skeptical Science:


---

Global temperatures in 2011 are currently the tenth highest on record and are higher than any previous year with a La Niña event, which has a relative cooling influence. The 13 warmest years have all occurred in the 15 years since 1997. The extent of Arctic sea ice in 2011 was the second lowest on record, and its volume was the lowest.

And this is a conservative view;

another study

places the 2011 as the ninth hottest on record:

Let's not beat around the bush, Salusinszky was misleading the public -- a clear breach of at least two sections of

The Australian's Professional Conduct Policy

:




1.3 Try always to tell all sides of the story in any kind of dispute.




1.4 Do not knowingly withhold or suppress essential facts.


This gratuitously misleading article requires a correction/clarification by The Australian and though I have written to the publication asking for such action – something The Australian has entirely ignored – we can be assured that we won't see any correction in their pages for a very simple reason — the newspaper has been conducting a calculating and concerted campaign to discredit the established and very clear consensus in global warming science and foster doubt about the need for climate action. It is the only newspaper in Australia that publishes these sorts of unscientific denialist articles — and it does publish this anti-science on a daily basis.

And while The Australian fiddles with public opinion, the world gets hotter.


Donate to IA
We need YOU!
IA punches above its weight.
Help us sharpen our knuckledusters.
PLEASE DONATE NOW!
IA Newsletter
Receive IA's free weekly newsletter in your inbox. Join Today
IA Newsletter Survey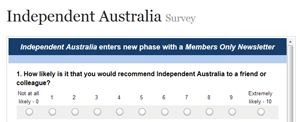 IA is interested in getting your feedback on our Newsletter. Can you help?
Support IA

Recent Comments