admin
13 February 2012, 12:44pm
Unless we wake up to ourselves soon, says Kim Peart, Australians may end up with only as much independence as the persecuted West Papuans.
We may
sometimes recall
the Eureka rebellion of 1854 by flying the Southern Cross as our national emblem, but how free are we really, as a nation?
We remember
the bravery of men like Captain Sam Templeton, who with 75 diggers was the first to engage the Japanese on the Kokoda Track on 23 July 1942. Outnumbered by a force of 2,500 Japanese soldiers, Templeton was wounded, captured, tortured and executed a week later.
We prevailed in New Guinea because of the bravery and sacrifice of men like Templeton and with a rather large and powerful friend on our side, went on to the allied victory in the Pacific War.
With the British apron strings hanging loose, we felt considerably different after the defeat of Japan. Though still singing 'God Save the Queen' until 1977, we finally had our own foreign policy. It is often forgotten that until 1942 Australia had no overseas embassies and no foreign policy of its own, behaving much as a colony of Britain as before Federation.
With Uncle Sam to back us up, who could stand against us and with a view to our northern defences on the island of New Guinea, we willingly made an agreement with the Dutch in 1957 to work toward the independence of the whole island of New Guinea
.
Many Australians were on the ground working beside the Dutch in Netherlands New Guinea, helping to prepare the western Papuans for independence.
['Current Notes on International Affairs', Department of External Affairs, Canberra, November 1957, p882].
Rex Rumakiek remembers those days, when a child on the island of Biak. He must have had an Australian teacher, as he once told me that Ned Kelly was his hero from those days. Perhaps it was remembering Ned that helped keep Rex going in the jungles of New Guinea with the OPM resistance in their war against Indonesian rule.
Like many other western Papuans, including Dr John Ondawame from the highlands, Rex found himself fighting Indonesia, because they believed in a freedom that had been snatched away by a brutal play of political chess, born out of an Indonesian lust for land, resources and empire.
Rex may have seen the Australians celebrate with the Dutch when the Morning Star flag proudly flew above New Guinea on 1 December 1969, when 1970 was set as the year for independence. The outcome could well have been a united New Guinea emerging as a strong and prosperous nation.
When the United States decided that an alliance with Jakarta was worth more than the liberty of the western Papuans in 1962, the Dutch were told to get out, Australia to butt out and Washington moved heaven and earth, overriding all basic principles of human rights, to roll out the red carpet for Indonesia to invade and occupy New Guinea.
The red of that carpet turned out to be the
blood of Papuans
.
In this bitter humiliation, Australia now knew that our liberty was but a brittle varnish of sugar, that we were not free, but more like a vassal state of Washington. We could have said "No" to the US in 1962. The Dutch may have stayed in New Guinea if we had. We could have made a fuss. We could have refused to agree. We could have voted "No" to Indonesian rule of western New Guinea, when it came to a vote in the United Nations in 1969.
Unlike Captain Sam Templeton, Canberra proved gutless and betrayed the nation and the western Papuans, who we had been helping to groom for liberty and independence. We became the servants of Indonesian occupation. In 1969, we prevented two western Papuans from flying to New York to tell the nations of the world what was really happening under Indonesian rule, that the Act of Free Choice was a total sham and betrayal of all principles that the UN presumably stood by.
Now the war for independence in western New Guinea has been dragging on for 50 years, with no end in sight, short of the deaths of all Papuans. Many describe Indonesian occupation as a slow-motion atrocity, as Papuans have been steadily beaten, tortured, raped and murdered for five decades.
The Papuan population of western New Guinea is now being overwhelmed by Asian immigrants, mainly from Java, slowly squeezing the indigenous population out of land and opportunity, suppressing their natural population growth. The population of western New Guinea is now over 3 million and less than half are Papuan. If the World had delivered justice, the West Papuan population could now be 3 to 4 million.
A study from within Indonesia has reported that torture is very wide-spread in prisons as a means of controlling prisoners, and used by the police and other forces in West Papua.
The
report stated
:



'The latest survey shows that punching, kicking, slapping, hair pulling, dragging, forced nudity, waterboarding, burning with cigarettes, electric shocks, groping, burning parts of the body, forced kissing, forced masturbation, forced oral sex and rape are also the most frequent kind of torture used in Papua.'




In this never ending war of occupation in New Guinea, Army Special Force (Kopassus) Commander Major General Wisnu Bawa Tenaya told Antara, the official Indonesian Government news agency, that the Force's presence in Papua was:





"…to carry out part of the Army`s main tasks in safeguarding and upholding the country`s sovereignty."


How long will the Papuans of eastern New Guinea continue to stomach what is happening to their kin in the West. One day, they may no longer rest quietly and war could break out in New Guinea. Would we support Indonesia, or the Papuans?

For 50 years we have been in total support of the Indonesians, even applauding their brutal occupation of East Timor. In 1962, we sold our soul to power and lost our moral compass in New Guinea. Now we help bleed the island of resources, from mines such as Freeport, benefiting Australian interests to the tune of many millions of dollars each year.

We sold out again at the UN in 1969.



We built western Papuan hopes for freedom sky high and then walked away from our promises like it was not a "real world" option, like our word was a balloon that blows away in the first wind.

As we think about selling out, we may like to wonder at China's rise to power, growing dominance in our region and extensive acquisitions in Australia, which our intelligence services are now becoming concerned about.

We may like to keep in mind that China is a natural friend of Indonesia, with China's rule of Tibet being in many ways similar to Indonesia's occupation in New Guinea.

Since we have no idea about honouring our word or keeping our promises, will we find ourselves being swept under the domination of China and told what we will do, like a game of 'pass the vassal state' to unwrap the resources?

A blowout of the Papuan conflict into full-on war in New Guinea, could well result in a change of flag over parts of Australia. China would hardly be bothered, as long as there is access to resources now and in the future, including Antarctica.

If we don't like the taste of this future in our beer, then we had better have a good hard think about what we would have to really do to become a fully free nation and also defend our independence.

In another article, I have suggested that Australia could invest our amazing resource bonanza in building solar power stations in space, which would give us direct access to the unlimited energy well of our star, allow us to build a very much stronger Australia with a far stronger defensive position on this continent, launch industry in space and construct orbital space settlements.

The critical detail in space development is that, with a serious approach, we can look to achieving a sustainable presence beyond Earth, which I call the Liberty Line, beyond which there would be no further cost to Earth and the return on the investment would be infinite.

In the 1970s, Professor Gerard K O'Neill's team at Princeton worked out that the Asteroid Belt alone could supply enough raw material to build orbital space settlements with a land area 3,000 times that of Earth. There is as much raw material again in the orbital La Grange points of Jupiter and millions of times the volume beyond the orbit of Pluto. ['The High Frontier', by Gerard K O'Neill, William Morris & Co, 1977 , p.16].



A stronger and more powerful Australia would become a serious player in international affairs — if we can wean ourselves off endless beer at the beach, or treading the mill of meaningless work without end, or of politics free of honour to get serious about what our nation can really achieve.

In this "real world" future, we could build strong friendships with free nations like India, South Africa and Chile, to collaborate on building a serious space program.

We could also use the energy direct from the Sun to crack excess carbon from the air and sea as a resource and lead the charge to winning back a safe Earth. That would be the real charge of the light Brigade.

If we believe in our bones that the word of Australia should mean something, then we may wonder if our 1957 pledge to West Papuan freedom should still be honoured.

Words alone will not change the will of the Indonesians, who are prepared to fight to retain possession of western New Guinea.

In the "real world", where politics is often without honour and frequently shaped by betrayal, only when individuals of honesty and integrity stand up for what they see is right, might we begin to awaken as a nation and build a strong Australia, on Earth and beyond.

It is in this future that West Papua could gain freedom without bloodshed, by offering Indonesia land beyond Earth and partnership in building this future, along with winning back a safe planet.

If we cannot imagine this potential and how we could achieve it, best we start Indonesian and Chinese language classes and learn how low we will need to bow to our new overlords.

(This is an abridged version of an article originally published in the Tasmanian Times on Australia Day, 26 January 2011, and has been republished here with the author's permission. For more information about the Free West Papua movement click here.)


Donate to IA
We need YOU!
IA punches above its weight.
Help us sharpen our knuckledusters.
PLEASE DONATE NOW!
IA Newsletter
Receive IA's free weekly newsletter in your inbox. Join Today
IA Newsletter Survey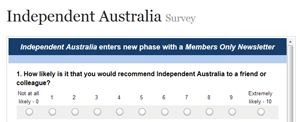 IA is interested in getting your feedback on our Newsletter. Can you help?
Support IA

Recent Comments