Australian national identity has changed from the mid-1940s with the advent of mass-immigration, writes Richard White
in 'Inventing Australia'
. Brad Webb considers White's arguments.
Richard White's
thesis,
Inventing Australia
, discusses the myth of 'the Australian Way of Life' by highlighting the inconsistencies within our national identity. White reasons that since the mid 1940s Australia's identity changed as it looked towards immigration as a means to bolster the nations security. Post-war Australia sought a larger population to not only build its defence but also to expand industry and services. White points to the importance of immigration on such major public works as the Snowy Mountain hydroelectric scheme.
This impetus building to urbanise Australia saw a shift from the traditional outback life of a sun-bleached bushman to a newly respected urbanised factory or office worker. The image of the urban man who dreams of driving an Australian made automobile, became the new symbol of 'the Australian Way of Life'. With his stay-at-home wife to care for their two children, a boy and a girl, this young family was the new middle-class. Moreover, the new middle-class ultimate goal became the great Australian dream—a house in the suburbs filled with all the new and necessary time saving appliances of a modern world.
However, this 'Australian Way of Life' had many limitations and restrictions. For the newly arrived immigrant, or 'reffo', Australia expected an immediate acceptance of our 'Way of Life', actively encouraging assimilation in much the same way it sought to absorb the indigenous population.
"It not only denied the possibility that the cultural traditions of migrants might enrich Australian life, but also denied the existence of different "ways of life" among Australian themselves."
(Images of Australia, p.45)
White points to this lack of understanding towards non-white Australians as one of the main reasons why 'the Australian Way of Life' did not actually exist. Even in the minds of the writers and commentators of the day, no consensus of this 'Life' concept could be determined or defined. What was agreed upon, however, was Australia's new allegiance to and reliance on the United States of America. Like many other Western nations, Australia looked to America for ideas and leadership. People compared their way of life with what they saw in Hollywood and, after 1956, through television. Consumerism became the new 'Life'. The demand for manufactured goods went hand in hand with the new urbanised Australian. Moreover, like America, the manufacturing sector became the most important feature of 'the Australian Way of Life'.
"For many conservatives, economic, cultural and military dependence on Britain was replaced by similar dependence on America, and the concept of "the Australian Way of Life" simply disguised the switch."
(Images of Australia, p.47)
In the late 1950s as Australia defined its 'Way of Life' to reflect suburban living, cities like Canberra increased in size and structure. Town planning was based on a middle-class Australian ideal: the car, the house and the family. Canberra's cultural identity came long after the lake was filled, 'providing one gigantic backyard swimming pool'. White points out that it was not until the Whitlam years that 'the Australian Way of Life' became more rounded. With the acceptance of a 'multi-cultural' society a "new nationalism" was born. Although Aboriginal and ethnic rights were acknowledged, little was achieved in alleviating their socio-economic distress.
As with the problems in defining 'the Australian Way of Life', White discusses the issue that this "new nationalism" was never clearly spelled out. Instead, it was labelled as pride in Australian achievement, particularly cultural achievement and the unrest felt by many to the increasing levels of foreign investment. White believed that an ability to better understand Australia through its history and culture was an important step in discovering our true selves, intellectually at least.
White makes it quite clear that the image of 'the Australian Way of Life' has no definite form. His writing highlights a national identity constantly changing. Whites argument does present many poignant issues, particularly about the benefits of nationalism within powerful interest groups. A perfect example was the 2001 Federal Election, which saw the Liberal-National Party utilise images of Australian nationalism that resulted in a devastating defeat for the Labor opposition. It is a theme that has been used with success on many previous occasions.
Bibliography


Gillian Whitlock and David Carter, Images of Australia, UQP, Brisbane 1992
Donate to IA
We need YOU!
IA punches above its weight.
Help us sharpen our knuckledusters.
PLEASE DONATE NOW!
IA Newsletter
Receive IA's free weekly newsletter in your inbox. Join Today
IA Newsletter Survey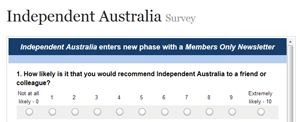 IA is interested in getting your feedback on our Newsletter. Can you help?
Support IA

Recent Comments